Manchester United Starts their new campaign to the season with a trophy wining the community shield by 2 goals to 1 against the premier league champions Leicester City.
It was Lingerd who scored the first goal for Manchester United by putting up a lovely strike from midfield dribbling pass about 4 players before firing the ball in the net
Ibrahimovic scored the winner by heading the ball from a tight angle.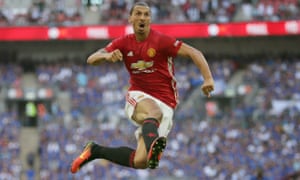 "He said it was a good goal from a tight angle, this is why i am here, this is my 31'st trophy and hope to win more. I want to win more trophies and i believed that i am in the best club to win more trophies. The only club i can compare with this club is Milan"
Mourinho started the new season with a community shield trophy, the boss is back in the league.
Manchester United will start their new season against Bournemouth next week Friday, Arsenal will be at home against Liverpool, while Manchester City will face Sunderland on August 12.